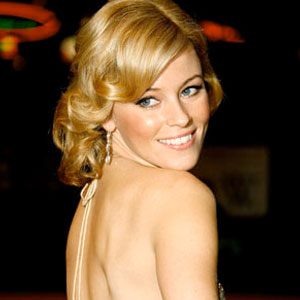 Elizabeth Banks will officially be playing Effie Trinket in The Hunger Games, and she's already got the spunk down, even virtually.
The 30 Rock actress tweeted out to her followers this morning asking them to guess the origin of this quote: "I'm smiling at you even though you're aggravating me." As we all know, it's one of Ms. Trinket's feisty lines.
And with one enthusiastic answer, Banks retweeted saying, "Yes! And I can now confirm I'm EFFIE TRINKET in @TheHungerGames. So excited!"
READ: Paula Malcomson will play Katniss' mom
As are we!
Filming for the first installment is set to begin in late May, and we can tell Elizabeth wishes she could fast-forward already. She even tweeted another Hunger Games line just after confirming her new onscreen endeavor.
It is about time a big name tagged onto this roster of newbies. Banks will be a great onset mentor for those young'uns; plus, she's absolutely hilarious off the set, too.
Thing is, Effie will be a far cry from funny. The character is über OCD-like, obsessed with punctuality and etiquette.
Trinket's major role is as the energetic handler advising Katniss and Peeta as they prepare for The Hunger Games, aka she will be working closely with Jennifer Lawrence and Josh Hutcherson. Talk about a smashing trio!
We are beyond excited to see Banks work her charm in this role, and we knew from the get-go, once those casting talks were initiated, that Elizabeth would once again swoon director Gary Ross, whom she worked with on the hit Seabiscuit as well.
Clearly, Banks is no amateur. I mean, she's blasting her beloved lines all over Twitter, isn't she? Regardless, we just wish Effie would now fill us in on which actors are, at the very least, rumored to join her on set.